Members of our staff were fortunate to attend the SWAIA (Southwestern Association for Indian Arts) Art Market in Santa Fe, New Mexico. It was a profound, inspirational, educational, political, eye-opening, joyous display of Native art from across North America.
There were several tables of activists representing government entities seeking to protect and amplify indigenous artists including the U.S. Department of the Interior's Indian Arts and Crafts Board from the Sioux Indian Museum in Rapid City, South Dakota, the Native Organizers Alliance, and Build a Nest, a nonprofit 501(c)(3) whose mission is "supporting the responsible growth and creative engagement of the artisan & maker economy to build a world of greater gender equity and economic inclusion"
But back to the artists.
The door panel below was awesome and just casually graced a bathroom in a hotel. And the hate below to the right? All of the colored band and hat brim is decorated in porcupine quills softened, dyed and threaded and weaved around the hat. Stunning.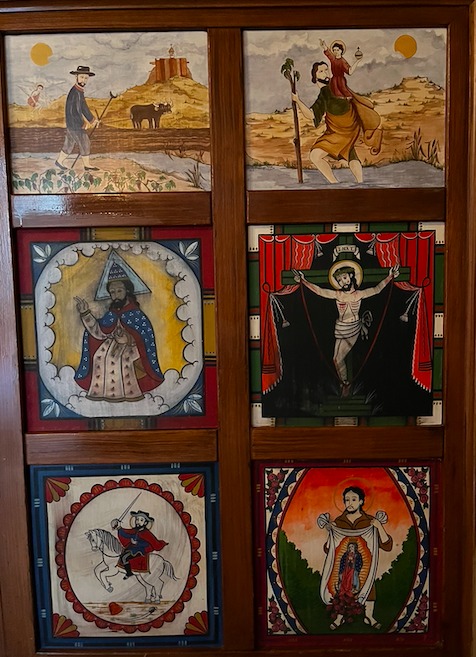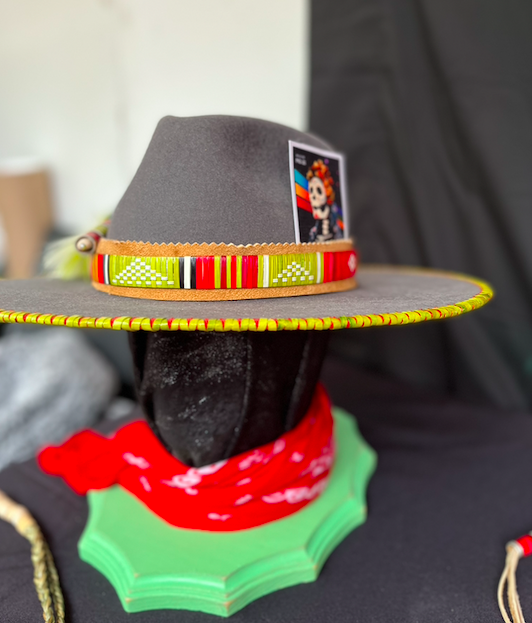 I was thrilled by the cultural pride and historic aspects imbued into every instance of intricate beading, precise clay molding, thoughtful brush strokes, and intentional weaving. It was humbling and educational and frequently quite emotionally moving. 
Like everyone, and acknowledging my place as a white man walking amidst the Native art booths, I was inspired to slow down, ponder, and especially listen. I listened to the artists' stories for what drives their creativity and inspires their vision. I had to be careful not to take too much of their time as they were there to sell, not just indulge my queries. But when I was able to connect in conversation with the artists, I was transported through genuine human connection and story-telling.
I was grateful to listen to the wisdom of visionaries who've dedicated themselves to creating artworks that make people think deeper, honor culture, translate history, and educate all people while also beautifying our lives.
I was honored to be there and honored to listen to the artists' insights.
Honored, as we all are when we speak with artists.
One of my favorite interactions was with a jeweler, J.J. Otero. He displayed a large necklace with the words "Resist" and "Landback" printed around the central gorgeous stone. I remarked that I was surprised I hadn't seen that on more of the policially-adjacent artworks in Santa Fe. JJ responded, "Sometimes the markets don't like politics." With that, he winked and smirked.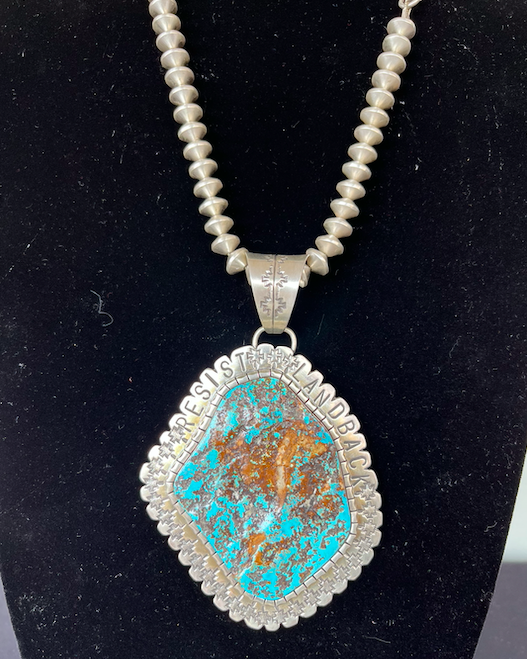 I was a bit taken aback by that statement. Some might say "all art is political". That can mean something different to every person. To me, it comes from the fact that so much art is produced because the creator is pushed to express themselves; that they don't have any choice to make a statement about something; that they must speak up and speak out. And the artists in Santa Fe at the American Indian Art Market most definitely feel the need, the intrinsic drive to speak up and create something – to express their hopes, fears, bitterness, aspiration in artistic format. Such a drive imbues much most of the art on display. And given the history and culture throughout the Art Market, I would have assumed that "politics" was a given. That even the organizers of the market would say "Bring it on! Express yourselves!" 
But even something as clearly layered as Native history, culture and art was supposed to shed itself of the context and richness informed by history and politics? That was surprising to me. 
But Mr. Otero who winked at me made it a charming inside joke. 
Resilience, indeed.
The perfect climax to the entire event was attending the Indigenous Fashion Show. The show featured the designers Orlando Dugi, Patricia Michaels, Sho Sho Esquiro, Skawennati, Catherine Blackburn,Melanie LeBlanc, Lauren Good Day, and Jamie Okuma. The creativity, the perspective, the eye-popping boldness, and especially the political statements were thrilling.
And of course, Santa Fe is always a magical (or as the license plates say, enchanting) destination – a city full of unique cultural heritage. 
Fun fact: the oldest and highest U.S. capitol, resting at 7,000 feet and nestled up against the Rocky Mountains, the city of Santa Fe was established by European colonizers in 1607 and declared the capitol of the province of New Spain in 1610.
SWAIA will definitely stay on the 4A Arts calendar going forward as we strive to foster greater access and dialogue between artists and audiences.