American JAZZ LUMINARY, 4A board member Larry H. Ridley
WELCOME
In episode 107 of Framing the Hammer, we chat with jazz legend and 4A Arts board member, Larry H. Ridley. Born in Indianapolis, Larry found a passion for music at the age of five along with the family practice of listening to the Bell Telephone Radio Hour. His mother put a violin into his hand to further his interest and he was soon taken under the guidance of Mildren Lynn with the Indianapolis Orchestra, who fostered musical programming for African American children in the city. 
Larry was in the right place at the right time to become part of the Indianapolis jazz scene with such storied musicians as the Montgomery Brothers, Freddie Hubbard, David Baker, and J.J. Johnson. In addition to playing clubs in Indianapolis like George's Bar and the Turf Club (while he was in high school), Larry and these legendary musicians toured what was then called the Chitlin' Circuit.
Larry then studied jazz at Indiana University with his friend and mentor, David Baker, who founded the Jazz Studies program at Indiana University Jacobs School of Music. 
Larry taught for a time at the University of Natal in South Africa alongside his friend, Darius Brubek. Because of his time in South Africa and his American background, Larry testified in the hearings held during the fall of Apartheid. 
Always committed to education and spreading the appreciation and knowledge of jazz, Larry directed the "Jazz Artists in Schools" program with the NEA, founded the Rutgers University Jazz Studies Program, and founded the African American Jazz Caucus and the Jazz Education Network. 
Listen now to enjoy further looks at the Montgomery Brothers [make video link] with whom Larry played and toured, as well as Freddie Hubbard [make youtube link]. 
Toured w Thelonius Monk wikipedia
Image used by permission of Larry Ridley.
Work? Playing jazz wasn't work!
– Larry Ridley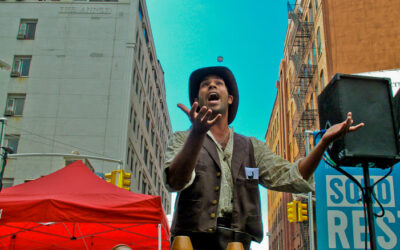 In this episode of Framing the Hammer, we speak with Elena K. Holy, founder and director of the New York International Fringe Festival as well as the 4A Arts general manager.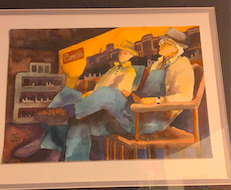 Framing the Hammer episode 106 brings us Troy Plumer, a Louisville, KY-based master's student in history. Troy is an aficionado, though not a trained expert by his own admission, with the era around the Works Progress Administration (WPA) of the Great Depression and arts funding during that period.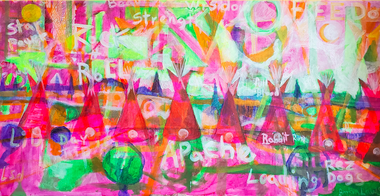 In the latest episode we're honored to chat with Indigenous artist Ishkoten Dougi. We met at the Santa Fe Indian Art Market in August.